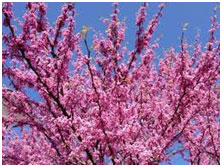 When Will We Write?
The 2020 Fall Gateless Writing retreat starts the evening of Thursday, September 24 at 5 p.m. and continues until Sunday, September 27, at 2 p.m. This part of New England is breathtaking in early fall with miles of unspoiled coastline. The critically acclaimed chef, Renata Rokicki, a Gateless-trained teacher and leader in the culinary arts, will cook for us, and you will receive daily Reiki and Thai head massage, as well as bodywork from an on-hand bodyworker who is there to move blocks out of our bodies while you move into brand new, wide open landscapes in the self and on the page.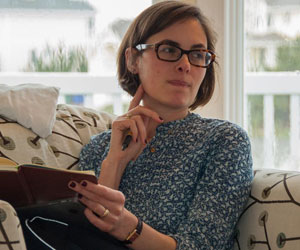 Gateless Retreats change lives. I loved every minute of it. ~Daisy Florin, Greenwich, CT.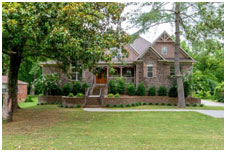 Where Will We Write?
Our retreat house is an osprey overlook set high above the marshes of Indian Cove. Guilford, CT has been voted one of the prettiest towns in New England by Yankee Magazine and BuzzFeed. Meryl Streep and Tommy Lee Jones have turned heads while being filmed on the Green. This coast enjoys miles of preserved marshes and beach land (kayaks included with the retreat house). The house, a state-of-the art contemporary, has plenty of nooks and crannies to cozy up in.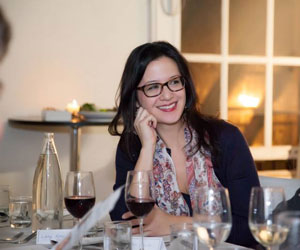 Gateless plugged me back in and brought me back to myself and the writer I know I can be. When I came to retreat, I felt like I wasn't "ready," and didn't have enough of my work solidified. What was surprising was that I could dive so deep into writing so quickly and easily. It wasn't the wrought, upward climb I feared, it was heaven on earth for writers. ~Terri Trespicio, New York, NY.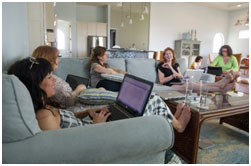 How Will We Write?
The Gateless methodology is a blend of creative brain science, ancient Zen technique, and radical nurturing. This retreat will be filled with what has become known as Gateless Writing salons, the literary massage of the writing world. The eight Writing Salons have the unique ability to draw out your innate genius, showing you where your work holds potency, so that you can lean into it and discover the unique literary landscape and voice that is only yours. Writers who have written in the Gateless methodology have gone on to sign 6-figure book deals, won major literary awards, been translated widely abroad, seen in the nation's most prestigious literary outlets and become a success at making their living from the written word.
1. The Stimulus:

All salons begin with Thai head massage and Reiki to facilitate kinesthetic conversation between the body and the intuit. Through touch and an activated prompt that accesses imaginative and memory centers, you are connected to a deep inner field of creative knowledge that is all your own. We spend a period of 20 minutes to an hour writing from this stimuli. This blissful muse-inspired writing session has exquisite power and can shift the creative circuitry in the brain.

2. Sharing the Work:

Reading aloud gives the writer confidence and helps to move stories out of the body so that more mind-blowing creative work can rise. Peer review in Gateless is a deft editing tool whereby the writer hears only what works in her writing, what has power and holds energy on the page. This can help you understand where your genius lives in your work, so that you can lean into it as you continue writing. 

3. Receiving Feedback:

Gateless feedback, essential to salon, allows writers to relax and receive. In the aftermath of reading aloud, we feedback what we loved, we show you where you shine on the page, your distinct brilliance with the written word. During feedback, the use of craft tools is contextualized, empowering you as a writer with skills and craft tools. As you receive the feedback, the amygdala in your brain relaxes and the prefrontal cortex is active, stimulating the intuitive, visionary, and imaginative centers of the cerebral cortex.

4. Bodywork:

A skilled massage therapist will be on hand to massage you as you listen to your feedback. This feel-good somatic response system allows the kinesthetic body to associate the sharing of your work with a visceral, bliss response, which can retrain the mind to move into the act of writing with more fluidity in the future. This is perhaps one of the best ways to blast through blocks and jump-start inspired creative work.

5. The Gain:

Salon fires "happy" neurotransmitters in the brain and cracks open creative horizons we've never before journeyed through. Writers who have written Gatelessly have gone on not only to have incredible success in their literary lives, but, perhaps more importantly, to make amazing shifts in their personal lives.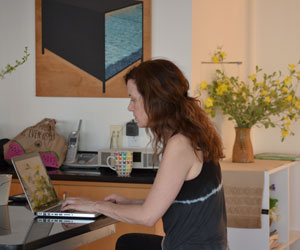 The Gateless Writing Retreat is a hundred Christmas mornings: your super-sonic listening, the writing down of the comments and the Gateless rush of all I did right! I've got it now. I'm not used to seeing such joy, unfettered and alive (as Joni Mitchell says) ... but I'm laying claim to it now too--thanks to you and your fearless defense of what is golden. I love you and I am going to write and write and write. ~Kate Baldwin, Newburyport, MA.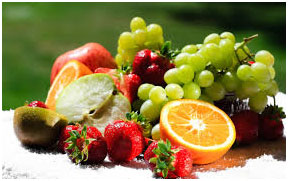 Food Glorious Food: 
Critically-acclaimed chef, Renata Rokicki, whose skill in the culinary arts has been hailed by the New York Times, the LA Times, Open Table, the Zagat Review, and more, will be hand to cook for us, wowing us with her incredible talent in the kitchen and catering to any food sensitivities. Renata is also a fantastic writer and a Gateless-trained teacher.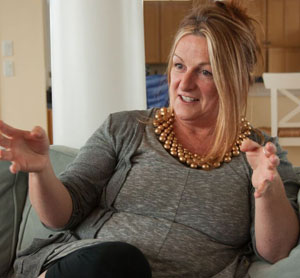 The most surprising thing about these four days was having my words spoken back to me by other writers, like a generous offer. I feel now that I am a full-fledged member of a new sisterhood of words, and I know there is a never-ending source of word-inspiration that I can tap into whenever I like and let it flow. My vision for myself as a writer really can come true. -Sheena MJ Cook, St. Louis, Missouri.
Schedule:
Salons:
Our first dinner together is Thursday evening at 6 p.m.
The first writing salon is Thursday night at 7 p.m.
We start morning salons at 9:30 a.m. and write until lunchtime.
Afternoon salons start again at 2:30 p.m.
Evening salons start at 7:30 p.m.
Meals:
Morning meals are pick-up, they start at 8 a.m.
Lunch is at 1 p.m.
Dinner is at 6:15 p.m.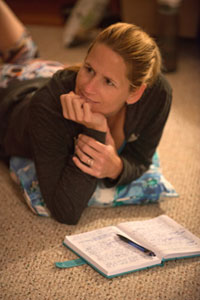 A total blast! Suddenly the load is lighter because we know we have a community standing in the balcony, swinging jackets over their heads, calling out all the things that they freaking LOVE about us! If I had to say one thing about Gateless, it would be this: "If you're lucky, you get it before you die." ~Karen Kenney, Concord, New Hampshire.
How to Get There:
The best airline prices are typically into New York, Providence, or Hartford. Tweed Airport in New Haven has limited flights but can sometimes be an excellent choice. The easiest airport (and the closest) is Hartford, with Providence being a second choice and New York being a third. From LaGuardia, you have a little bit of a journey: take the airport bus to Grand Central, the Metro North train to New Haven, the Shoreline East train to Guilford, and someone from the retreat will arrive to bring you to the retreat house a few miles away. You will receive an email with all the group participants cc'd as we get closer to the date, and many people write to one another about carpooling. There's a reasonable car service from the Hartford airport, or rental cars are usually not too expensive from that locale.
What to Bring:
Bring warm clothes in case it's chilly at night (we have a woodstove insert and often fire it up for those chilly New England nights). It has hit the 60s and 70s this time of year, so check the weather before you come!! Bring a laptop or notebook, any special snacks you love, earplugs (just in case!), cozy clothes, a flashlight, and your own beautiful unguarded ready-for-anything self!
The Unexpected:
You will most likely cry at least a little bit. You will cry from the relief of letting that secreted self and your long-held creativity finally blow the roof off the house. You may cry from the joy of being able to come home to your own personal truth. You might cry from the beauty and depth of others' writing and from your own surprise and happiness at what you really do contain inside. So bring Kleenex.
Support:
Gateless retreats include a personal massage therapist for the group (see above, in the How Do We Write section). Because we move through so many creative blocks at retreat, the therapist is there to massage the blocks out of your body. During retreat, you will have at least one session with her. You will also receive Thai head massage and Reiki along with a guided meditation before the writing sessions. Gateless tends to draw exceptional people, and writers make lifelong friends at retreat. To this end, we have developed a private Facebook group of peeps who have written Gatelessly through the years. You are invited to join this as soon as you register. Here you will find support for the Gateless life you've discovered and any and all writing endeavors, no matter how great or small.
The Jitters:
Keep in mind that the critic tends to get restless as you approach retreat, that is very normal, and please do get in touch with me at suzannekingsbury@gmail.com when you feel shy and need some reassurance that this will be a life-changer. I promise, it will.
Unless otherwise indicated, these prices include all salons with guided meditation, head massage, all meals, massage, and my written feedback of your work after each session.
King/Queen bedroom in the retreat house with attached bath: $2300.00
Single Queen or King bedroom (no attached bath): $1875.00
Shared room: $1575.00
New Haven County residents who would like to be day students: $1375.00
How to Register:
To register, please send us an email, letting us know your interest. We like to communicate with all retreat participants first. Please do so as soon as you can, retreats fill very quickly! gatelesswriting@gmail.com.
Your Facilitator:

Suzanne Kingsbury is trained in Reiki and certified in Thai Head Massage and can "read" a writer through touch. She began work as a scribe channel while she was leading her first Gateless Teacher Training in 2014, receiving messages from a divine source of unconditional love that helped writers find clarity and power in their words. As a writing intuit, she uses the sacred spirit of the word to understand deep patterning and repeated archetypes in a writer's work, that leads to profound alchemy in their lives.
An award-winning, internationally-acclaimed author, Suzanne's work has been translated widely abroad and optioned for film. In 2007 after graduating from the Bennington College Masters in Fine Arts program, Suzanne founded Gateless Writing, an internationally-acclaimed organization whose unique methodology combines brain science, ancient Zen techniques, and therapeutic nurturing to develop writers' unique talent and singular genius, enabling them to move through residual blocks and create domain-changing prose. She is the recipient of a Fulbright Award and the Oxford Town Fiction Award and her work has been profiled in Rolling Stone Magazine(European edition), the Guardian, the LA Times, O Magazine, BuzzFeed, Bustle, Thrive Global (top writing retreat of 2017), NPR syndicates, and more ...
Through retreats, workshops, one-on-one intensives, and career training programs, Suzanne has helped countless writers on their way to landing top agents, signing lucrative book deals and winning prestigious literary awards. Her writers have also been profiled in some of the world's top media outlets including The New York Times, the Wall Street Journal, CBS, NBC, ABC, Forbes, USA Today, the Jane Pauley show, and more. She believes if you are a writer, you have been tapped by the divine to be a conduit for a message only you can tell and that you can move a crowd with the power of your story.
I can't wait wait wait to write with you,
Suzanne