The Shamanic Gateless Writing Retreat
To gain a complete understanding of the Gateless Retreat model, the history, methodology, and more, please visit our main retreat page.
The singular magic of the shamanic journey and the bliss of Gateless Writing find confluence in this four-day once-in-a-lifetime retreat October 22-25, 2020 in Indian Cove, CT.
In the land of surface dwellers, this is a retreat for the deep diver, the writer who wants to play in the haven of the sacred and write from the bliss of the unconditioned mind. Using ancient wisdom from the ancestors and some of the most consecrated rituals from the Shamanic tradition, you will find yourself writing from a place of rich profundity and systemic integration. Designed to crack open conditioning and discover the limitless creative inside, this is your sanctuary, a tonic to intensify that which is astounding and undiscovered within.
You will experience:
--8 Gateless writing salons to shed past conditioning and open the portals to unique creative genius + Gateless feedback to show you the singular power and energy of your language, voice, and story.
-Daily Thai head massage + Reiki to free the body from physical and emotional blocks.
--Deep tissue massage with bodyworker and somatic therapist, Collin Leech.
--Tibetan singing bowl ceremony with critically-acclaimed sound healer, Kelvin Young.
--Readings from the ancient Tarot with metaphysical scholar, Kevin Melville Jennings.
--Feasting ala culinary genius Kellie Finn (dairy free, gluten free).
--Profound nurturing in a light-filled house overlooking 100 acres of golden marshland on ancient Indian land.
Arrival: Thursday at 5 p.m.
Dinner will be at 6:15 p.m.
Salons:
The first writing salon is Thursday night at 7 p.m.
We start morning salons at 9:30 a.m. with a prompt and meditation with Kevin Jennings
and write until lunchtime.
Afternoon salons start again at 3 p.m.
Evening salons starts at 7:30 p.m.
Shamanic and Sound Healing will take the place of Saturday night salon.
Meals:
Morning meals are pick-up, they start at 8 a.m.
Lunch is at 1 p.m.
Dinner is at 6:15 p.m.
Closing Ceremony: The retreat will be completed Sunday by 2 p.m.
Where: The retreat is held in Indian Cove in the town of Guilford, CT, 1.5 hours from NYC, 2 hours from Boston, and a 50-minute car/shuttle ride from Bradley International Airport in Hartford, CT.
To Sign Up: Please send an email to gatelesswriting@gmail.com
Your Faculty: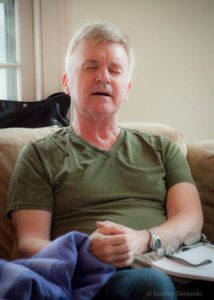 Kevin Melville Jennings is a Gateless trained teacher, metaphysical counselor, astrologer, and a scholar of the sacred Tarot. For many years, he was the author of the Daily Scope at Vogue, where he provided genius astrology to millions. He utilizes traditional and esoteric knowledge passed on through generations as well as being an accomplished teacher of Alchemy and Greek Philosophy. At the Shamanic Retreat, he will open the Tarot every morning and every evening during retreat and will provide a lens through which to view writing as a journey into the unconscious. A wonderful pic of Kev from the Gateless Teacher Training, 2017. He so often closes his eyes when he is in divination.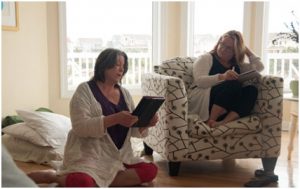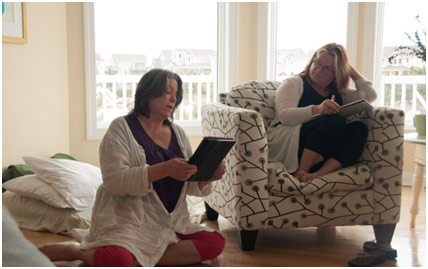 Collin Leech is a Massage Therapist, Reflexologist, and Shiatsu practitioner and has been for 21 years. She is also an Aquatic Therapist doing a kind of therapeutic warm water massage called Jahara (related to Watsu). She teaches Reflexology and Hydrotherapy on a college level and has received training in Integrative Positional Release and Aromatouch. Here she is pictured, reading her incredible prose at the Gateless Outer Banks Retreat, with novelist Sheena Cooke listening on intently.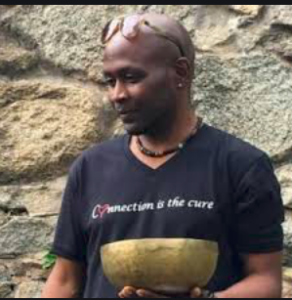 Kelvin Young, sound healer, utilizes the crystal and Tibetan singing bowls, gong, ocean drum, chimes, and other healing tools to activate the relaxation response to calm your mind, relax your body, feel your emotions, and nourish your soul. The meditative sounds promote healing from chronic stress, muscle tension, addictive behaviors, sleep disorders, depression, anxiety, PTSD, and more. Kelvin's sound healing will move us out of the conditioned mind, ceasing activity in the adrenalized fight or flight area of the brain so that you can come to a deep creative wellspring of artistic freedom.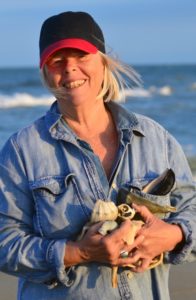 Elaine Fletcher Chapman is a Certified iRest Yoga Nidra Teacher, who trained with Richard Miller and Stephanie Lopez at Integrative Restoration Institute in San Rafael, California. For 38 years she has worked as a therapist in private practice and is the author of Hunger for Salt published by Saint Julian Press and an Assistant Professor in English at Old Dominion University. She has her MFA in Writing and Literature from Bennington College and founded The Writer's Studio where she teaches On Keeping a Journal, poetry, and nonfiction, along with providing editing services and organizing poetry readings and Crossing Over Writing Retreats on the Eastern Shore of Virginia.
 Kellie Finn 
is a
Gaateless Trained teacher, a chef,
a writer, teacher, artist, yogi, and an entrepreneur who has an MS in Yoga Therapy and is co-creator of Shri 200 hour YTT and Yoga Live It. She was the founder of Yoga Eastworks - a studio in Easthampton, MA. Recently, she moved to D.C. where she became a professor, moving her metaphysical work into academia. Kellie's published work has appeared in the mind/body online world and she is a graduate of the Gateless Academy. She has been in the writing salon as well as assisting with her genius in the kitchen at many Gateless retreats, and will be our chef and retreat mama at the Shamanic Retreat. Here she is pictured between two of her Gateless besties, Renata Rockiki and Becky Karush, at the Gateless Writers Romp.

Suzanne Kingsbury is an award-winning, internationally-acclaimed author, whose work has been translated widely abroad and optioned for film. In 2007 after graduating from the Bennington College Masters in Fine Arts program, Suzanne founded Gateless Writing, an internationally-acclaimed organization whose unique methodology combines brain science, ancient Zen techniques, and therapeutic nurturing to develop writers' unique talent and singular genius, enabling them to move through residual blocks and create domain-changing prose. She is the recipient of a Fulbright Award and the Oxford Town Fiction Award and her work has been profiled in Rolling Stone Magazine (European edition), the Guardian, the L.A. Times, O Magazine, BuzzFeed, Bustle, Ms Magazine, Thrive Global (top writing retreat of 2017), NPR syndicates, and more ...
Suzanne is trained in Reiki and certified in Thai Head Massage and can "read" a writer through touch. She began working as a scribe channel while she was leading her first Gateless Teacher Training in 2014, receiving messages from a divine source of unconditional love that helped writers find clarity and power in their words. As a writing intuit, she uses the sacred spirit of the word to understand deep patterning and repeated archetypes in a writer's work, that leads to profound alchemy in their lives.
Through retreats, workshops, one-on-one intensives, and career training programs, Suzanne has helped countless writers on their way to landing top agents, signing lucrative book deals and winning prestigious literary awards. Her writers have also been profiled in some of the world's top media outlets including The New York Times, the Wall Street Journal, CBS, NBC, ABC, Forbes, USA Today, the Jane Pauley show, and more. She believes if you are a writer, you have been tapped by the divine to be a conduit for a message only you can tell and that writers can move a crowd with the power of story.
To Sign Up: Please send an email to gatelesswriting@gmail.com
All-Inclusive Cost:
Pricing includes four days of Shamanic ceremony, Reiki, Thai head massage, Gateless Writing salons, supportive peer support for your work-in-process, a personal chef, and private feedback to your inbox to point to your unique genius on the page and the power in your work.
Single room in the retreat house with attached bath: $2350
Single room in either retreat house: $1875
Shared room: $1575
Day student rate only for those residing in New Haven County: $1350 (includes everything: meals, shamanic work, salons, bodywork etc. ...)
Please visit us HERE for the Cancellation Policy
To gain a complete understanding of the Gateless Retreat model, their history, methodology and more, please visit to our main Retreat page.
To Sign Up: Please send an email to gatelesswriting@gmail.com
A Sampling of Testimonials:
Nothing is more surely Shamanic than the way Suzanne teaches. She pulls out what is genius and beautiful about the writer and rides them into a new landscape with her nurturing, her feedback, and her incredible insight. I have never felt so held and so boldly, happily alive than at retreat. Thank you thank you thank you to Gateless for changing my life. ~Katina Makris, FL, award-winning author of four books on intuitive healing including Out of the Woods.
If I could live in that hive forever, I would. There is something magical that happens at Gateless that changes the way you see yourself and makes you fall deeply and profoundly in love with the written word. Gateless has changed my life forever. Once you're Gateless, you never go back. ~Jen Violi, OR critically-acclaimed YA author.
Once you have the Gateless experience, you realize that there are no gates, that it's all possible and that the limits you thought were there are non-existent, everything was actually yours for the taking all along. If you get to experience Gateless in your lifetime, you are one of the luckiest people alive.--Karen Kenny N.H. spiritual teacher and memoirist.
The Gateless Shamanic Retreat: bonfires, crazy beautiful writing, a palm reading on the couch between dinner and the next writing salon, feasts of food, laughing until I cried, I loved every single minute of it. And the writing I did on this retreat took me to other realms, completely new worlds, I fell into the writing like falling into another dimension. I now have a completed novel that is part of a trilogy and it is all because of Gateless. ~Sarah Gill, CO somatic therapist and naturopath.
To Sign Up: please send an email to gatelesswriting@gmail.com
To gain a complete understanding of the Gateless Retreat model, their history, methodology and more, please visit our main Retreat page.