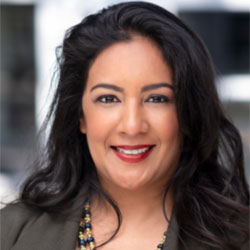 Deepa Purushothaman is a Gateless writer, an author, speaker and the cofounder of nFormation, a membership-based technology platform for high-performing WOC (Women of Color). She is also a WAPPP Leader in Practice at the Harvard Kennedy School where her primary focus area of research is systemic racism and the advancement of women of color in corporate America. Deepa is using this research to write a book with Harper Collins on women of color in corporate America. Deepa is devoted to helping Indian girls realize their potential, and has helped found Avasara, the first leadership academy targeting young women in India. She speaks extensively about diversity, equity and inclusion and has been featured at national conferences and in publications like Bloomberg and Harvard Business Review. Extending this focus to her community.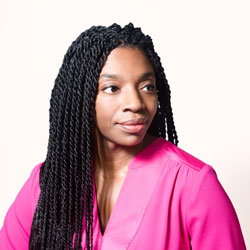 Tara-Nicholle Nelson is the Inner Critic Coach™, a globally-recognized transformation expert for high-achieving people and purpose-driven companies. Her Inner Critic Cure™ uses proven spiritual and practical steps to help you overcome patterns of fear, doubt and self-sabotage so your life can finally take off.
Tara is the author of The Transformational Consumer and the Founder of SoulTour, the School of Spiritual Strategy™. Previously, Tara was the Chief Marketing Officer for MyFitnessPal, the world's largest health and wellness app.
Tara has been featured or published in Harvard Business Review, Success Magazine, Essence Magazine and The New York Times and she was recently named the #1 woman Silicon Valley tech companies should be naming to their boards by Business Insider.
---
What Agents Want with literary agents Johanna Castillo and Nicki Richesin: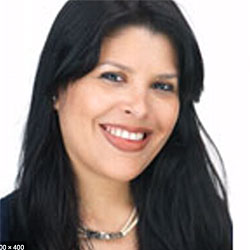 Johanna Castillo is with Writers House Literary Agency as a Senior Literary Agent. A seasoned professional in the publishing industry, Johanna was formerly Vice President & Executive Editor at Atria Books/Simon and Schuster and Editorial Director of Atria Español for nearly fifteen years. In that role, she acquired and edited forty-one New York Times bestsellers by multiple national and international bestselling authors including Isabel Allende, Colleen Hoover, Rachael Ray, Sara Shepard, Rosanna Pansino,Javier Sierra, Laura Esquivel, Armando Lucas Correa, Tosha Silver, Roxanne Veletzos and María Dueñas.
Johanna is often invited to speak on panels and has been featured in The Miami Herald, The Boston Globe, The Daily News, and in Publishers Weekly. She was featured as a "Mujer on the Move" by Latina magazine, named a 2005 Prominent Latina by El Diario La Prensa, and was named one of the 25 Most Powerful Women by People en Español magazine in 2016. She is also a board member of the Board of Directors of Poets & Writers.
As a literary agent, Johanna is actively building a list of talented authors with whom she can work closely with editorially and form solid, long-term partnerships. She is seeking works of quality fiction: historical, book club fiction, romance and suspense. In non-fiction she looking for memoirs, lifestyle, pop-culture, cookbooks and narrative nonfiction. She represents middle grade/ YA and is always seeking new diverse voices, #ownvoices #latinx.
---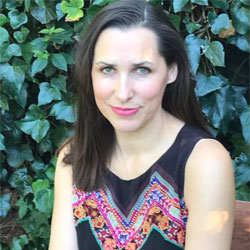 Nicki Richesin began her career at Bloomsbury in London during the exciting days when J.K. Rowling was first discovered by the publisher. She has worked as a freelance editor for over fifteen years with many talented writers, as well as publishers such as Penguin Random House, Simon & Schuster, Seal Press, and Little, Brown. She edited four literary anthologies (The May Queen, Because I Love Her, What I Would Tell Her, and Crush) featuring essays by bestselling authors including Jennifer Weiner, Lauren Oliver, David Levithan, Karen Joy Fowler, Chris Bohjalian, Amy Greene, and Kaui Hart Hemmings.
Nicki is especially interested in representing literary and upmarket fiction, young adult fiction, narrative nonfiction, and memoir. She is eager to discover authors writing about somewhat unconventional protagonists with an imaginative slant on storytelling. In young adult fiction, she has a particular fondness for coming-of-age stories that take a cue from classic literature. Nicki is drawn to memoir with a genuine voice that instantly connects with readers and takes them on a journey. She will always champion a story that investigates the true meaning of life, love, and identity. After many years of collaborating with hard-working authors, she enjoys nothing more than helping them realize their vision and telling everyone all about it.
---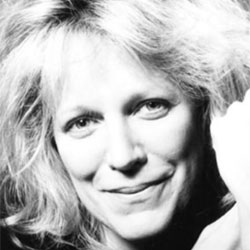 Marshall Chapman: Will talk about writing stories that might terrify your mother, riding Willie Nelson's bus, and publishing the award-winning rock-and-roll memoir.
Chapman's first book, Goodbye, Little Rock and Roller (St. Martin's Press) was a SIBA bestseller, 2004 SIBA Book Award finalist, and one of three finalists for the Southern Book Critics Circle Award. The book is now in its third printing. Her 2nd, They Came to Nashville won the SIBA Book Award for nonfiction and profiled some of the most iconic singer/songwriters of this generation. Chapman's songs have been recorded by everyone from Emmylou Harris and Joe Cocker to Irma Thomas and Jimmy Buffett. In the past few years, she has become a favorite on the big screen, playing Gwyneth Paltrow's road manager in Country Strong, the blues-singing mother of Ryan Reynolds in Mississippi Grind (2015) and in Lovesong, which opened to rave reviews at Sundance Film Festival, she plays opposite Rosanna Arquette's mother of the bride. Her musical Good Ol' Girls (adapted from the fiction of Lee Smith and Jill McCorkle, featuring songs by Matraca Berg and Marshall) has opened off-Broadway to fantastic reviews. Marshall has been a co-leader of Gateless retreats and a participant.
---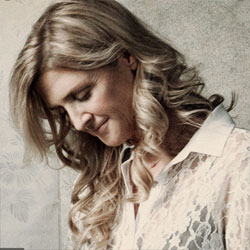 Minton Sparks will talk about cultivating a signature voice, how to build fantastic characters from real life and inventing a revolutionary creative career.
Minton Sparks, a backwoods Lucinda Williams, fuses music, poetry, and her intoxicating gift for storytelling to paint word pictures of the rural South that put you square in the middle of the people and the places she knows. She's a decorated poet, playwright, and author who has performed and read alongside Maya Angelou, at Lincoln Center, and at festivals and performing arts centers around the nation. The founder of The Nashville Writing and Performance Institute, Minton is a spoken word storytelling genius. She has been featured on NPR's All Things Considered, BBC's Bob Harris Show, and WoodSong's Old-Time Radio. She's shared the stage with country and folk heavyweights like Rodney Crowell, John Prine, Nanci Griffith, and the Punch Brothers. Marshall Chapman has said of her "I have seen Minton Sparks. And if she's not the ghost child of [Flannery O'Connor] and [Hank Williams], then cotton doesn't grow in a cotton field."
---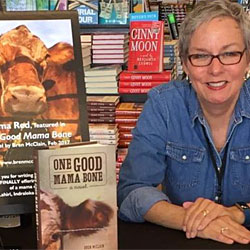 Bren McClain is an alum of the Gateless Academy and she is the award winning author of Good Mama Bone and the recipient of the 2017 Willie Morris Award for Southern Fiction The 2019 Patricia Winn Award for Southern Literature. She has been long-listed for the Southern Book Prize, Southeastern Independent Booksellers Association. Her novel was 2017 Great Group Reads selection by the Women's National Book Association and was named top book of 2017 by Lit Picks and a Southern Independent Booksellers Association Okra Pick. She's a Finalist for The Crook's Corner Book Prize for a debut novel set in the American South, and an excerpt of her book was named a 2012 Finalist for the Pirate's Alley Faulkner Award for a Novel-in-Progress. She's at work on my next novel, Took, which features another farm animal, chickens. Happy to say it has won the 2016 William Faulkner-William Wisdom prize for Novel-in-Progress.
---
Myrsini Stephanides is a Gateless favorite in the agent-world (and has written with us Gatelessly in our salon in NYC). She has 10 years of experience as a nonfiction editor and book packager specializing in highly illustrated books. Most recently, she worked as an Acquisition Editor at Sterling Publishing, where she developed the pop/culture and music category with titles including Woodstock: Three Days That Rocked the World, Canyon of Dreams: The Magic and the Music of Laurel Canyon, The British Invasion, and Record Store Days. Myrsini was the editor of the Weird travel series(Sterling), senior editor of The Duke Encyclopedia of New Medicine: Conventional and Alternative Medicine for All Ages (Rodale, 2006) and developmental/series editor of the first three books in the Men's Health Best series (Rodale 2005). She has also collaborated on projects with The Smithsonian, Archaeology magazine and YANKEE Magazine and was a contributing writer to the fifth edition of the Hammond World Atlas (Langenscheidt, 2007).
---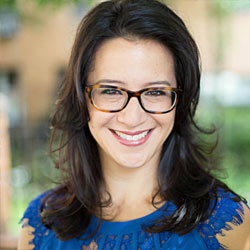 Terri Trespicio, Branding Expert, World-Renowned Speaker Terri will be talking to us about how to create a brand as an author She is a Gateless Teacher and a Gateless Academy Alum. Her Ted Talk, Stop Searching for Your Passion has been viewed 5 million times, and her book from the same title was just picked up by Atria, an imprint of Simon and Schuster. She has appeared on the Today show, Dr. Oz, The Early Show, TBS Movie & a Makeover, The Martha Stewart Show and The Anderson Cooper Show, and hosts her own show, Solopreneur, on the Grant Cardone TV Network. Her work has appeared in Jezebel, Marie Claire, Prevention, Experience Life, Mind Body Green, Robb Report, Oprah, and DailyWorth, among others. She's also been a featured expert on Inc.com and Fast Company. She is repped by Writers' House.
---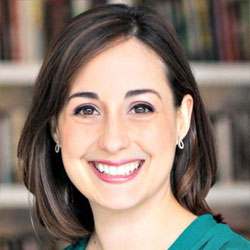 Paula Rizzo, Media Expert. Paula Rizzo is an alum of the Gateless Academy who has been a television producer in major media network news as a health and wellness expert, accepting (or rejecting) pitches from authors and other "experts" including Deepak Chopra, JJ Virgin and Jillian Michaels. She is the co-creator of Lights, Camera Action and the bestselling author of  Listful Thinking, which made it to the top of  Oprah's list of self help books that actually help.
---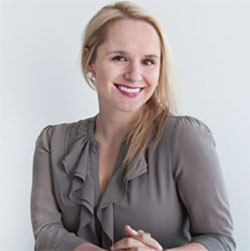 Susie Moore will tell you everything you need to know about building platform and getting into the hottest media outlets in the country.
Her work been featured on the Today show, Oprah, Business Insider, The Huffington Post, Forbes, Time Inc, Marie Claire and she's the resident Life Coach Columnist for Greatist. Susie's work and insights have been shared by celebrities and thought leaders including Arianna Huffington, Paulo Coelho, Kris Jenner and Sara Blakely.
Her first book What if It Does Work Out? was named by Entrepreneur as one of the 8 Business Books Entrepreneurs Must Read to Dominate Their Industry.
---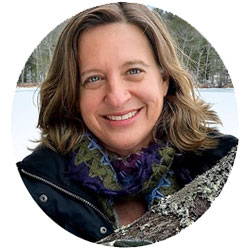 Jodi Paloni: Jodi has a ton of tricks up her sleeve on how to get your literary work published in the short form. Her book publications include a linked story collection, They Could Live With Themselves (Press 53) runner up for the Press 53 Award for Short Fiction, finalist for the Maine Book Award finalist, and IPPY Silver Medalist, and two anthologies, Short Story America Volume IV, in which she is the featured writer for my prize-winning story, "Deep End," and "Rest Stop" in North by Northeast (Littoral Books). She placed second in the 2012 Raymond Carver Short Story Contest through Carve Magazine. Her short stories appear in a number of literary magazines.
---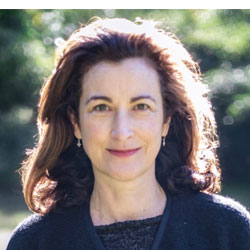 Sydney Sidner will talk about how to write screenplays and series pilots as well as how to get your work-in-progress adapted for the screen. She is an award-winning filmmaker, screenwriter and educator.
Syd created the pilot MERIDIAN HILLS which she sold to the CW. She also co-wrote a pilot (reboot) of CHARMED for CBS. Her other works include her most recent feature SKIRT, as well as GETTING BUDDHA BACK and the TV pilots: BLISS CITY, TIOGA LAKE, ROUGE, and INDISPOSED a short, produced by Warner Bros. for the Royal Academy of Dramatic Art (RADA).
She has taught original TV pilot writing at Stony Brook's M.F.A. film program in Manhattan, screenwriting and pilot writing at Columbia, spec writing for television at NYU, theater at The Dalton School as well as theater and screenwriting at Northwestern University's National High School Institute (NHSI).
---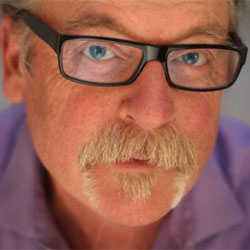 Bill Roorbach is the author of a diverse shelf of books from story collections to memoir to the book about writing that is now in its second edition Writing Life Stories.  The Remedy for Love, was a finalist for the 2015 Kirkus Prize,and the bestselling Life Among Giants, which won a Maine Literary Award in 2012. An earlier collection, Big Bend, won the Flannery O'Connor and O. Henry prizes in 2000. His memoir in nature, Temple Stream, just released in a new paperback edition by Down East Books, won the Maine Literary Award in nonfiction 2005. He's just been named a 2018 Civitella Ranieri Foundation fellow. I met Bill Roorbach years ago when I was working on a novel, and we became fast friends. At heart, he is a storyteller and can add levity and verbosity to the sometimes serious literary game of trying to get the work out there. You can ask him about his stint on reality television or what happened when Life of Giants got picked up by HBO just as easily as you can ask him about his walks in Maine and his experience trying out poetry as a genre.
---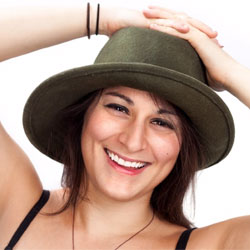 Olive Persimmon is a Gateless Writer, author, speaker, communication coach, she is the author of Unintentionally Celibate And The Coitus Chronicles and has been featured in NBC, Salon, Bustle, Fast Company, Bullet Media, Kent Wired and more. On the TedX Asbury Park Stage, she gave a well-loved Tedx: How To Be A Great Lover (Not What You Think). She is represented by The Carol Mann Agency.
---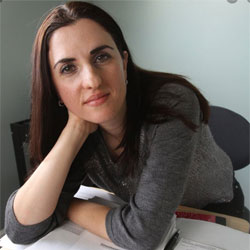 Huda Al-Marashi is a Gateless Writer, the author of First Comes Marriage: My Not-So-Typical American Love Story, a book The Washington Post called "A charming, funny, heartbreaking memoir of faith, family, and the journey to love. If Jane Austen had grown up as a first-gen daughter of Iraqi parents in the 1990s, she might have written this." She has written for Al Jazeera, Tin House, LA Times, Self, Vice, The New York Post and many other media outlets, her work has been anthologized over half a dozen times, and she has been profiled, interviewed and loved by The Rumpus, The Kenyon Review, Sister-Hood, The Millions and more. She is the recipient of a Cuyahoga County Creative Workforce Fellowship and an Aspen Summer Words Emerging Writer Fellowship. Huda is represented by The Carol Mann Agency.
---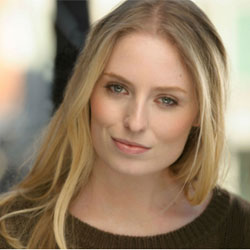 Jen Waite is a Gateless writer, author of the memoir A Beautiful Terrible Thing, published by Penguin Random House in 2017. Recently she sold her second book, first novel (the one she started with some of you at the spring Gateless New Mexico Retreat) again to Random House. She was a model and actress (film/television) before starting this book and giving Gateless a ring in 2014. Her memoir moves into the center of a sociopath who left her with a three-week-old daughter after taking most of her family's money. A gripping book, it allows for grief as a centerpost the narrative moves around. Megan Daum's New York Times review says of the memoir: "Waite has a knack for showing the ways that cognitive dissonance can chart pathways in the mind that cause emotional confusion to obscure rational thought. " Jen recently came out with her new book, a novel: Survival Instincts, also with Penguin Random House.
---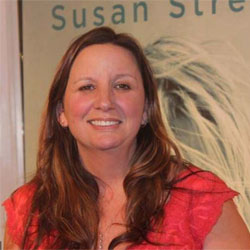 Susan Strecker also started with Gateless early in her writing career. Her first novel, Night Blindness, about an estranged daughter returning home to the CT coast to help her father as he struggles with an aggressive brain tumor, got picked up by one of the best agents in NYC before Susan had any publishing credits to her name. It sold to St. Martins/McMillan in auction as a two-book deal and was one of the best deals that season for a debut author. The book received high critical acclaim went on to become an Indie Next Pick and won the Beverley Hills Award for fiction She is now working on her fourth novel.
---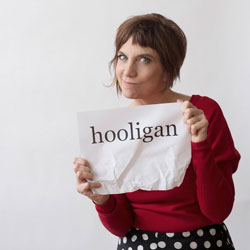 Nina Hart: Partying with the beast, on moving through creative blocks.
Nina Hart is an Asheville, NC based writer, performer, standup comic, and creativity coach trained in the Kaizen-Muse method. She is also a certified Gateless Method writing teacher. Her first collection of surreal short fictions called "Somewhere in a Town You Never Knew Existed Somewhere" was selected as a Short Stories (Adult Fiction) category finalist in Foreword Reviews' prestigious 2014 IndieFab Book of the Year Awards. Nina was also an original member of the experimental dance troupe Contraband, in San Francisco and, playing a purple electric bass, has recorded and performed with numerous bands. Ninaspends her time as a right-brained, highly sensitive, creative entrepreneur.
She is passionate about helping artists and writers find their voice and reclaim the hooligan kid spirit that most people have buried under an "adult" veneer. Ninaconsiders herself to be an improvisational writer – she was a blocked writer until she rediscovered the curious part of herself who could play, experiment, and explore. Ninais the founder of a unique method of teaching writing called "Writing from the Top of your Head," which combines group Creativity Coaching with creative writing. She offers online Writing from the Top of Your Head workshops, both live and self-study, as well as intensive retreats and 1:1 coaching. "If we think there's only one kind of intelligence, we push out 99% of human beings and human potential." To sign up for a chat, or for more information visit www.writingfromthetopofyourhead.com.
---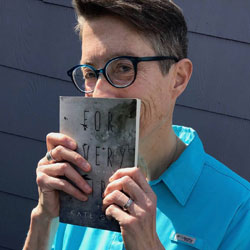 Kate Gray will talk about multi-genre fluidity, on keeping the creative urge flowing.
Kate Gray's passion comes as a teacher, writing coach, and a volunteer writing facilitator with women inmates. She is a Gateless Trained teacher, and her book For Every Girl: New & Selected Poemshas been recently published by Widow & Orphan House in 2019. Her first full-length book of poems, Another Sunset We Survive (Cedar House Books, 2007) was a finalist for the Oregon Book Award and followed chapbooks, Bone-Knowing (2006), winner of the Gertrude Press Poetry Prize and Where She Goes (2000), winner of the Blue Light Chapbook Prize.
Kate's first novel, Carry the Sky, (Forest Avenue, 2014) stares at bullying without blinking. Over the years she's been awarded residencies at Hedgbrook, Norcroft, and Soapstone, and a fellowship from the Oregon Literary Arts. Her poetry and essays have been nominated for Pushcart Prizes. In her novel-in-progress, she narrates, in Sylvia Plath's voice, what led to The Bell Jarand her suicide attempt in 1953. Kateand her partner live in a purple house in Portland, Oregon with their impetuous dog."You can get your emotions in your reader's body. The sounds of your words will change a reader's body."
---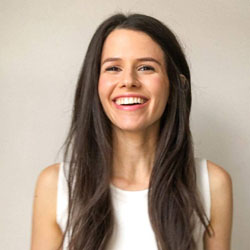 Melisine Alegre is a professional photographer and Gateless trained teacher. As a visual brand artist, Melisine has worked with premier brands, including Adidas, Samsung, Wanderlust, Four Seasons Hotels and Resorts, Mandarin Oriental, The Wing and, of course, Gateless. Her website is melisinestudio.com. She combines photography with coaching, mindfulness, and soulful creativity to create a photo shoot experience that honors and empowers the individual and/or the company.
Melisine specializes in portraits. She is often hired by luxury hotels around the world to create advertising quality self-portraits for their websites and social media. One of her specialties is teaching writers how to show up with a clear, confident presence online that allows their inner voice and their brightest selves to shine.
As our beloved Sarah Montana said, "Melisine is always looking for what has power and what has magic, she lets the rest fall away."
She teaches:
How to use Gateless and your writing process to inspire your photos, and create more vibrant posts to share
How to plan photo shoots to honor your vision and true self
How to actually take self-portraits: process, craft, and tools
---