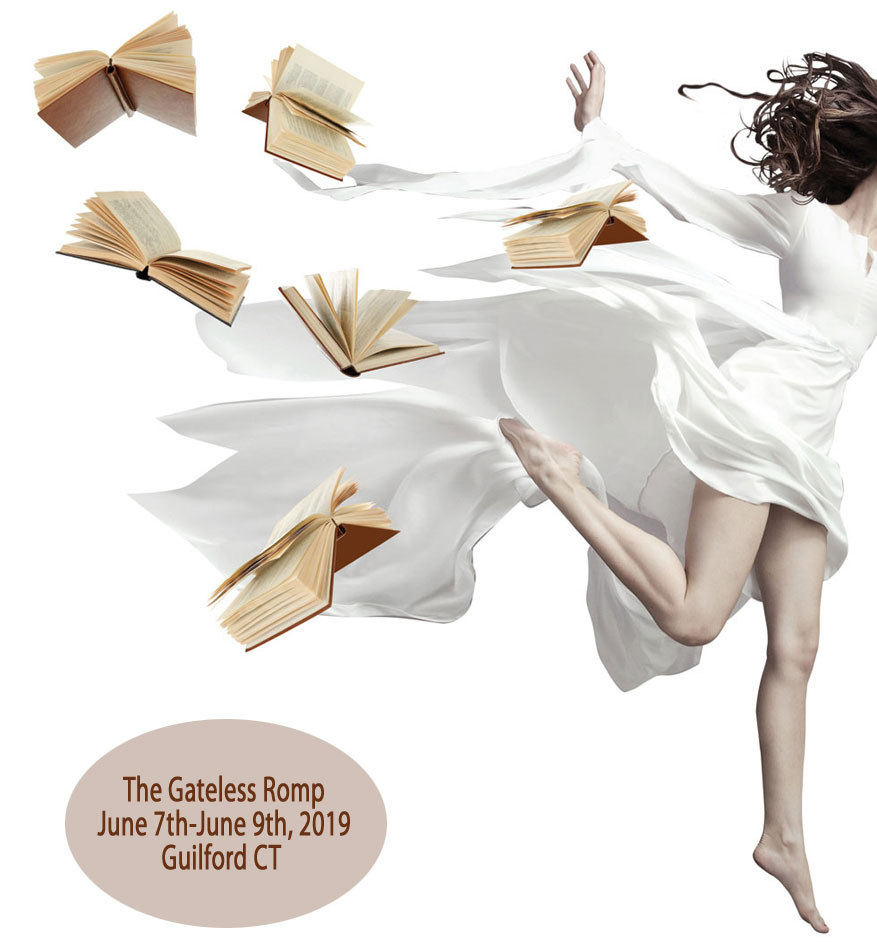 What is the Gateless Writers' Romp?
The Romp is a weekend to party with the muse. Immerse yourself in the bliss of the Gateless Writing, discover literary playmates, hear fanfreakingtastic music, break the piñata of the critic and deep dive into the powerful writing you can do in the immediacy of the moment.
Intimate feedback sessions with some of our most talented Gateless-trained teachers, include award-winning poet Kate Gray, speaker and screenwriter Sarah Montana, Gateless fairy godmother+novelist Becky Karush and more... Gateless teachers will show you where your work has strength and energy so that you can lean into your unique genius on the page.
+ puppy piles, a celebration of the spirit of the word, and an abundance of pure, Gateless love.
Who will be there?
You and 40 writers from all walks of life.
Amy Speace the w ildly talented folk/Americana singer,  NPR describes her voice as "velvety and achy"--  will move us to our muse with the power of song on Friday night.
Terri Trespicio and Cameran Hebb, laugh-your-socks, best-of   comedians who have graced some of the hottest comedic stages in New York will kick off the comedic hour on Saturday night..
Founder of the Nashville Writing and Performance Institute, and award-winning storyteller and performance artist  Minton Sparks, whose shared the stage with John Prine, Nanci Griffith, and Punch Brothers.
Renata Rokicki whose critically-acclaimed gourmet has been written up in the New York Times, the LA Times, Zagat Review and many others will provide our feasts Saturday Lunch and Dinner.
What Is the Schedule for the Gateless Writers' Romp? 
June 7th, 7:00 p.m.-10:00 p.m.: Friday Evening Gateless Salon begins with singer-songwriter with Amy Speace.
June 8th, 10:00 a.m.-6:00 p.m.: Saturday Gateless Writing Salons with feedback from Gateless trained teachers + community  writing circles + feasting  ala Renata.
7:00 Saturday Evening Comedy with Award-Winning Comic and Writer Terri Trespicio.
June 9th, 10-11:15 a.m.: Sunday goodbye ceremony we love you and more more more.
Where Is the Writers' Romp:
The Writers' Romp will be held at The Gateless Homestead, Guilford, CT (address will follow upon registration, this setting is two miles from the sound and about a mile from the center of Guilford).
Where to Stay:
Any Air BnB in Guilford, Branford or Madison, CT.
For those without a car: Comfort Inn on Boston Post Road, Guilford CT is a quarter of a mile away.
Want a more plush hotel experience? The Madison Beach Hotel is 4 miles away.
Tent camping at the Gateless Homestead for $100 (please let us know, space is limited).
How to Come:
The Metro North train is available from Grand Central New York to Union Station, New Haven.  From New Haven, you can hop the Shoreline East to Guilford Center and take an Uber, or take an Uber from New Haven.
Providence, Hartford or New York airports are the best if you are flying.
How to Register:
Register HERE.
You may also send us a note, gatelesswriting@gmail.com so we know you are coming.
How to Pay:
$275 USING THE FRIENDS and FAMILY link (not goods and services) on PayPal to gatelesswriting@gmail.com
Make a check out to Gateless Writing. Send to: Gateless Writing, 27 Davis Drive, Guilford, CT 06437.
There are no refunds for The Gateless Romp.
Can't WAIT to create wild crazy love with the beauty of the muse...
xxxxxxoooooo, S.
*If you are an author/singer etc..., please feel free bring merch to sell.
*If you are a teacher, please let us know if you'd like to lead the feedback at a salon.
What Is Gateless Writing?
Gateless Writing was founded in 2008 by internationally-acclaimed author and educator, Suzanne Kingsbury. The methodology uses creative brain science, ancient Zen technique and radical nurturing to bar the critical voice and move the writer to previously untapped genius within.
Gateless offers retreats, one-on-one mentoring, a year-long Writing Academy, and a career training program for those wanting to accelerate their careers and their lives.  There are now 60+ Gateless teachers worldwide, and Gateless Writers have gone on to sign six-figure book deals, work with New York's top agents, hit bestseller lists, become sought-after speakers, seen themselves featured on top media outlets and celebrated their work being adapted to film.
But most of all? In Gateless a writer finally finds a family of writers, a hive of support to cheerlead them in their singular innate talent and limitless power on the page.